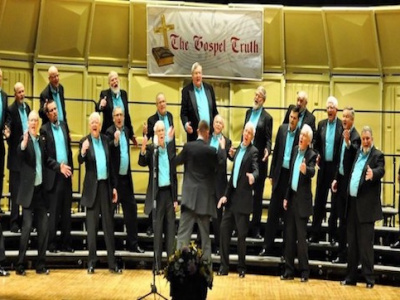 The Fun Center Chordsmen ~  "Harmony in Motion"...with a passion to succeed!
We are a men's a cappella chorus.                                      
Our members are men of all ages that come from varied backgrounds and experiences united in the spirit of love of four part a cappella singing. We provide learning tracks and  sheet music, called a chart, in order to facilitate the learning process.
We work to perfect our art form in order to perform for a varity of audiences in Richland and surrounding counties in Ohio. This includes our annual show at the beautiful Renaissance Theatre in downtown Mansfield in March of each year. We perform several free community concerts during the year as a way of saying thanks to the businesses and individuals for the the  tremendous support of our chorus.
* Photo by Jim and Julie Buker