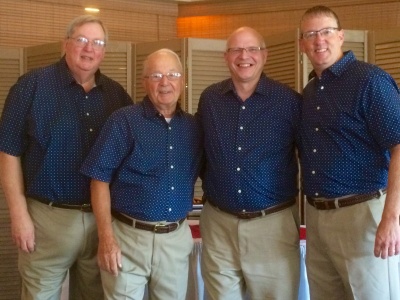 Home Edition is a quartet specializing in the production of wonderful four-part barbershop harmony. They are all members of the Fun Center Chordsmen, the Mansfield chapter of the Barbershop Harmony Society or SPEBSQSA.
Home Edition is the chapter's most tenured registered quartet, having been together since 1989. Home Edition appears regularly on the annual shows of the Fun Center Chordsmen. They have appeared in several "Town Roasts" and have performed for many events, parties, and conventions in the Richland County area. They have provided dinner entertainment at J. Gilbert's restaurant in Columbus on several occasions. That's right, they "sang for their supper."
In 2001, Home Edition completed their first tape/CD recording of their favorite songs. In 2002 and 2003, they took on the challenge of presenting Young Men In Harmony classes to high school choral students in a five-county area. Additionally, they have helped raise scholarship funds for students who attend a Harmony Camp each August in Columbus, including profits from their own treasury.
Members of the quartet include Jim Frye, tenor, who is the newest member, joining in 2015. Jim has been singing barbershop since 2012, and currently serves as VP Music and Performance and is the Immediate Past President of the chorus. He is the District Technology Coordinator for Upper Sandusky Schools. Jim is the contact man for the quartet. Jim also sings tenor with the quartet Bravada.
Jerry Starrett, lead, has also been with the quartet since 1990. Jerry has been singing barbershop harmony beginning in 1988 and in addition to singing with the Fun Center Chordsmen, he sings with the Singing Buckeyes in Columbus, the past Johnny Appleseed District Chorus Champions. Jerry is a career food service manager.
Bill Herdman provides the bass voice for the quartet. Bill joined Home Edition in early 2002, following the death of our charter bass man, Dick Sherman. Bill is a charter member of the Fun Center Chordsmen and has been singing barbershop for many years. This is the second registered quartet in which Bill has sung, the first being the Broadway Limited. Bill is in the management ranks of AK Steel in Mansfield. Bill is also a bass section leader in the chorus.
Dave Kracker, baritone, is the remaining original member of Home Edition which began in 1989. Dave has been a barbershopper since joining the Society in 1961. He sang with Bill Herdman in the Broadway Limited quartet for a number of years and several other registered quartets. Dave is also a charter member of the Fun Center Chordsmen. He directed the chorus for 22 years and is currently an assistant director and the Vice President of Youth in Harmony. He is also a dual member with the Singing Buckeyes in Columbus.